This week is one of my favorites. For the past three years, I've had live caterpillars come to my room, delivered from Insect Lore. It's so fun to have the real thing and watch their excitement over it!


My mom did something like this with them (she comes in on Wednesdays), and it turned out super cute.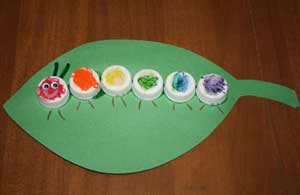 1-10 Counting Caterpillars- I did this same idea, but we ordered 1-10 numbers to make the caterpillar instead of names.
Pipe Cleaner Bead Caterpillars.
Watercolor Coffee Filter Butterflies.
Sequin Butterflies.
Scrap Paper Gluing Butterflies (although ours definitely didn't look as cute as this!).