I feel like my style has changed a lot in the last year, primarily because I no longer have a "work outside of the home job" (and I say it like that because being a SAHM is definitely a job too!) and because I am always caring for Norah, and often other children too.
I taught preschool before, so even though I had to wear real work clothes, I still tried hard to find comfortable items that were easy to wash and care for. That is still my goal, but even more so now because I am on the floor so often.
As I have gotten older, I have learned to spend more money on clothes that are quality. I've heard people say that, but I think it's something you don't learn until you get a little older. Yes, it costs you more money initially, but I do think it saves you in the long run because your clothes last longer when you are buying higher quality pieces. I am also much more selective in what I purchase, because I don't want to buy something unless I absolutely love it and will wear it often. (I usually just ask for clothes for my birthday or something, so I don't spend too much on clothing myself.)
My style is much more relaxed and comfortable now because of my stage of life. I don't want to wear baggy sweatpants everyday, but I am definitely looking for comfortable, easy to move in, and easy to wash (because you can't re-wear clothes when caring for kids- so much spit up, snot, food, etc.)! I am on the floor so much that even jeans aren't very appetizing to me these days. Though, I still want to look put together (most days) and not feel like I am always wearing pajamas, so here are a few of my current favorite pieces that are so comfortable without wearing sweatpants and t-shirts. (You can see that I really love them because I own multiple of several items!)
Old Navy Tie-Waist Jersey Cocoon Dress
(I have in Gray Stripe and Black)- I have said several times since having Norah that "long and high" is what I am looking for in clothing, and this dress fits both! Holding babies really prevents you from wearing low-cut shirts or shorter dresses/skirts/shorts. I am super happy that the "midi" style dress is in season. You can guarantee that I will keep wearing them even when it's not in season anymore.
Athleta Trekkie Jogger Pant
(I have in Iron Blue and Jasper Green)- I love these pants so much. They are comfortable, easy to move in, and slightly fancier than sweatpants.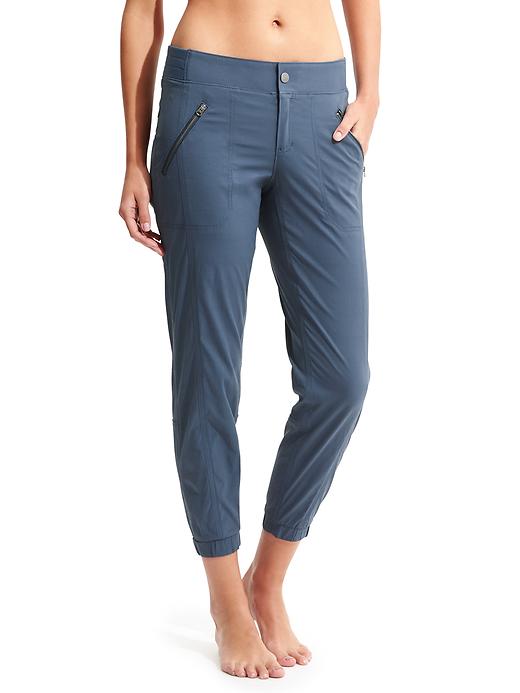 Athleta Pure Tee
(I have in Black, Heather Gray, and Mint Green)- Some people are not a fan of ruching, but I don't mind it. I love these tees because they wash so well and they are plenty long. So many companies call their basic tees the "perfect tee," but it really is hard to find a perfect one!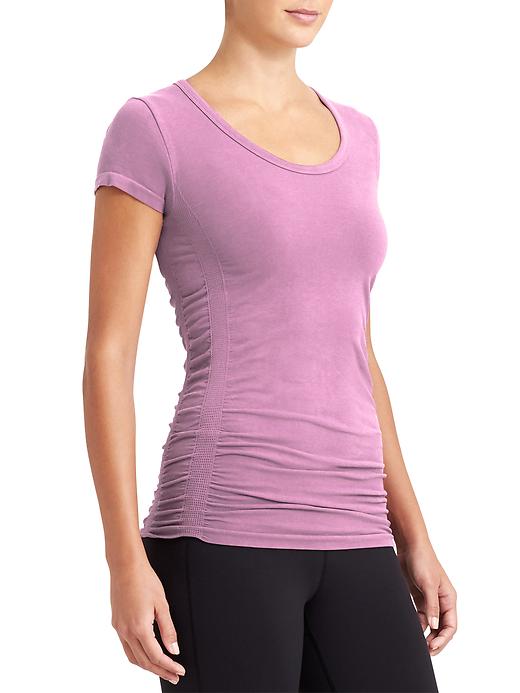 North Face Women's Osito 2 Jacket
(I have in black)- This is my go-to fleece and I wear it often. Great as a light coat outside or for when I feel cold inside- it's fuzzy and warm!
North Face Red Blaze Vest
- I don't know if this is the exact same vest I have, since mine is a few years old, but I love it. I have it in eggplant purple, and I also have a black vest from Old Navy and I wear both often.
Gap Sun Wash Active Stripe Sweatshirt
- I recently ordered this sweatshirt with a gift card in a pink/red color and I love it. It's so comfortable, but looks slightly more put together than wearing a baggy sweatshirt with a hood.
Lou and Gray Signature Soft Poncho
- This is not the exact cardigan I have, but it's similar. Everyone needs a good cardigan, right? The one I have is super soft and is easily worn with many different things.
So there you have it- if you have any favorite must-haves, let me know!