Doing reviews on baby items is probably one of my favorite things! I always dreamed of being a mom, so I love providing helpful tips to other moms out there of what we have used. There is so much to choose from, so it can be hard to know what's good/worth it or not. Here are a few things Norah has gotten recently, which are mainly her first birthday presents:

1. VTech 3-in-1 Stroller- Kley and I decided that it would be fun to each pick a bigger gift to give to Norah that we wanted to use with her over the next year, and this was my choice. Norah has a weird hate for baby dolls that have hair, so I was glad that this doll that comes with it doesn't have hair. The doll itself is very average- I was more excited about the stroller part. I love that it can turn into three different things- stroller, high chair, and bed, and it has music/words that go along with all three sides. Unfortunately, it doesn't walk smoothly. Norah has the VTech Sit to Stand Learning Walker that she has loved so much and that walks so smoothly, but this can only be pushed in the stroller setting, and it's too heavy in the front and is not smooth to walk with at all. Overall, though, it's a good toy. Norah doesn't love it as much as the liked the walker, but she enjoys it.


Verdict: It's okay.
2.
Little Tikes Easy Score Basketball Set
- This was Kley's choice for his bigger gift for Norah. The best part was probably seeing Kley's excitement over it, not even Norah's! (
Look back
to when she opened it!) Norah enjoys it, but really more just loves the ball. She doesn't quite understand to throw the ball into the hoop, but I'm sure she'll love it even more as she grows. We have in our basement, and I think it's the perfect basement toy. I wouldn't ever want it in our living room, but the basement is the perfect place to put these kinds of toys and then go down there when they need to burn off energy or get a change of scenery. (Also, we do not have our bottom weighted down since Norah is still young and doesn't pull on it yet, but we will have to remember to put sand or water or something in the bottom as she gets bigger!)
Verdict: Yes, a nice classic toy!
3.
Melissa and Doug Geometric Stacker
- Norah loves the
stacking rings
and cups (from
here
and
here
) that she's had for awhile, so I really thought she would love this for her birthday, and she does! She loves taking them off and putting them back on. For now, she puts them on in a completely random order, but it will be great for when she gets older too because she can practice colors, shapes, and sorting. Also, for easy storage, you could keep it in a plastic bin, so you don't always have to put the shapes back on or keep looking for the missing pieces.
Verdict: Yes, I love it.
4.
Melissa and Doug Shape Sorter Cube
- I love this shape sorter. The shapes are the perfect size for tiny hands, and the cube is just the right size too. The lid slides off easily and makes it easy to store shapes inside. (The corners are sharp, though. We have never had a problem with it, but I just don't let Norah walk around with it in case she would trip while holding it.) We've also discovered that it's tricky, too! There are some shapes with big names in there, and as you can see in the picture, the diamond and the parallelogram are both yellow and very similar in shape, so even I confuse them sometimes! Overall, I really like this toy. Norah understands that you put the shapes in the holes, but doesn't yet understand to search for the correct match.
Verdict: Yes.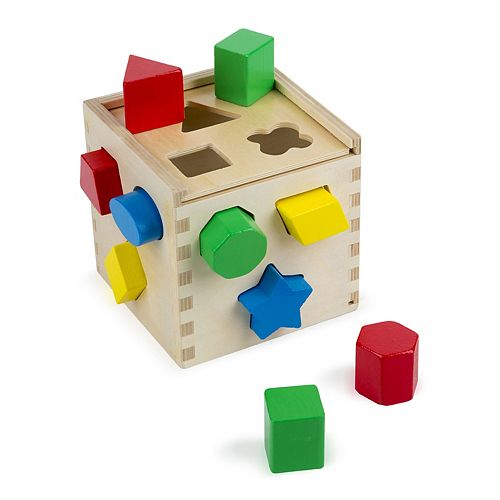 5.
Melissa and Doug Shape Sequence Sorting Set
- This toy is like so many in one. You can practice colors, puzzles, sizes, and sequencing. Norah only understands the puzzle aspect now, to take the pieces out and put them back in, but I still think it's valuable because it's important for toys to sometimes be slightly above where they are actually at developmentally, but not to the point of frustration, so it pushes them to learn and keeps them interested. (There's my teacher bit for you.) I have washed these pieces several times, and they've been in mouths numerous times, and there are a couple wood cracks, but not bad. It's not to the point where anything is actually chipping or breaking off, it just doesn't look as perfect as the day I opened it.
Verdict: Yes.
***For the above three Melissa and Doug toys, I love that they are inexpensive, small (for easy storage), have multiple educational purposes, and Norah will be able to use them for a long time.
7.
American Girl Bitty Baby
- My parents got Norah a Bitty Baby for her birthday, and she absolutely loves it. It's so adorable to watch. (
Look back
to when she opened it!) She loves holding it and covering it with blankets. I think she loves how realistic it looks. Watching her rock her baby is the sweetest!
Verdict: Absolute yes!
8.
Pottery Barn Kids Carolina Small Table & Chairs
- Norah got this table, in the Chocolate finish, from Kley's parents for her birthday. I love it! Yes, it's expensive, but it's a great investment piece. We got it in the Chocolate finish so it would match our dining room furniture/Norah's bedroom furniture, and it matches so well. We have it in our dining room and it looks amazing. It doesn't even look like a kids table, other than the obvious fact that it's small. Norah still isn't old enough to sit unsupervised, but it's a great size for eating, doing art projects, puzzles, coloring, play-doh, etc. I know we will use it for many years to come with all of our kids! They have several different sizes and many different color finishes too.
Verdict: Definite yes.
9.
Tomy Roll Around Ball Tower
- So apparently this must be hard to find? I had a hard time finding it on any website! We had this growing up, and my parents gave it to Norah for her birthday. She enjoys it! It's a pretty loud toy, but thankfully my sensitivity to loud toys is low after being a preschool teacher. Norah loves dropping the balls in, and what kid doesn't love balls?
Verdict: Yes.